👋Hey I'm David. Arkain99 (yea I know, cringe) over on Fiverr.
I created this course because I was tired of all the fake gurus giving unhelpful advice on how they think Fiverr works. Instead, learn from an actual Fiverr seller and Fiverr affiliate
If you've been looking to get started with freelancing on Fiverr and want an effective crash course on how both Fiverr and the affiliate program works - this course is for you.
Find out:
✔️ Setup your Fiverr account for maximum results.


✔️ Critical mistakes you need to avoid.


✔️ How to select the perfect gig based on your skills.


✔️ Creative ways to leverage the affiliate program.


✔️ Drive external sales with ease.
✔️ Rank your gig in the marketplace for organic sales


...and more!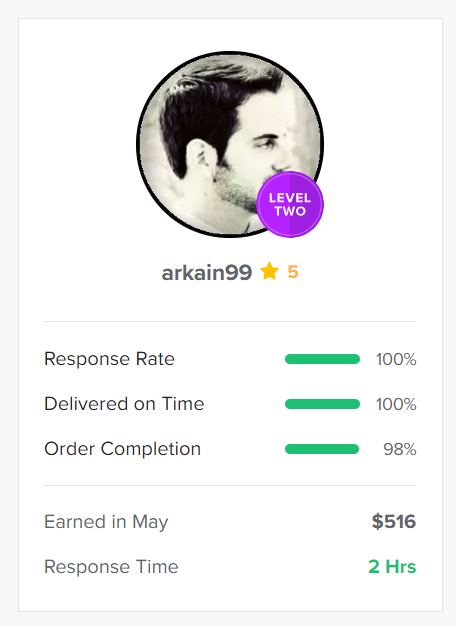 I love Fiverr as both a buyer and seller.
I got my start on Fiverr buying services (hence Arkain99) but transitioned to selling services online (and no you can't change your account name!).
Through numerous mistakes, I've figured out what works. I've distilled my years of working on Fiverr into an easy to follow, step by step course.
I'm routinely recognized for outstanding service.
I make $700-$1000 dollars on average selling services on Fiverr and hundreds of dollars from the Fiverr affiliate program.
Let me show you what works in this helpful, constantly updated crash course on freelancing with Fiverr.
Fiverr is one of the most creative, under rated ways to monetize any website, blog or YouTube channel.
Just take a look at the results I get 👇

Video Guides and Private Content
This is an in-depth video course, not some glorified ebook.
What do you get with your purchase?
Get instant access to hours of video content, written guides and course updates.
Learn how to freelance on Fiverr part-time or full-time. Step 1 to done from Fiverr choice seller. Nothing is held back. Gig setup, description, intro video, Fiverr affiliate program and more. Sign up today for cost effective, crash course on Fiverr.